"This temple is going to end up far better than it started out, a glorious beginning, but an even more glorious finish: a place in which I will hand out wholeness and holiness..." -Haggai 2:9

Synagogue Entrance

Carved above the pillars in front of the synagogue, the Hebrew words "Beth HaMedrosh Hagadol" mean "The Great House of Learning." Another translation is "The House for Those Who Hunger after God."
Mezuzah at Entrance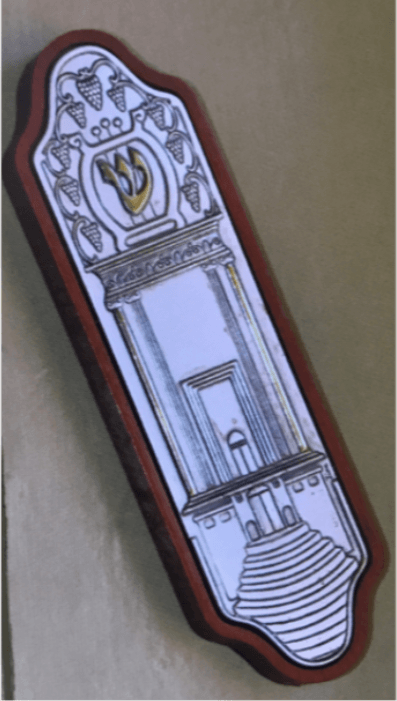 The Mezuzah in the lobby was designed and produced by 2nd generation silversmith Maurice Mousseri, head of one of the last Jewish families to immigrate to Israel from Syria in the mid 90's. Maurice now has a workshop in Tel Aviv and signs all his pieces "Zion" in honor of his father who was the silversmith for the ruler of Syria. The Mezuzah is formed from pure silver with gold highlights placed on a cherry wood backing. The scroll inside the Mezuzah was hand-copied by the only Messianic scribe in Israel, Eliezer Malachi. The scroll contains the passages from Deut. 6:4-9 and Deut. 11:13-21. It was donated by Eric Money from Tiberias, Israel.
Menorah-Fountain Jerusalem Stone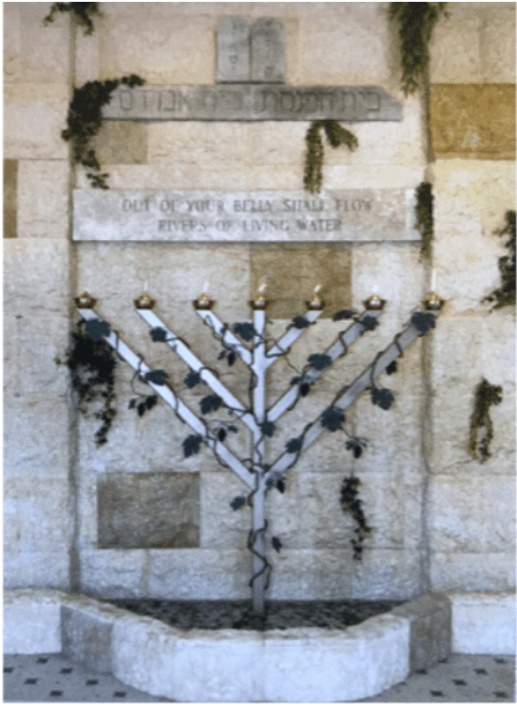 As you enter the lobby of the Synagogue, you will notice a Jerusalem Stone wall supporting a Menorah rising from a fountains, designed by local Messianic Pastor, Burt Yellin.
Stained Glass Windows

The Synagogue's fifteen original large stained glass windows were reconstructed. The original scriptural references are pictured on the stained glass.
Bema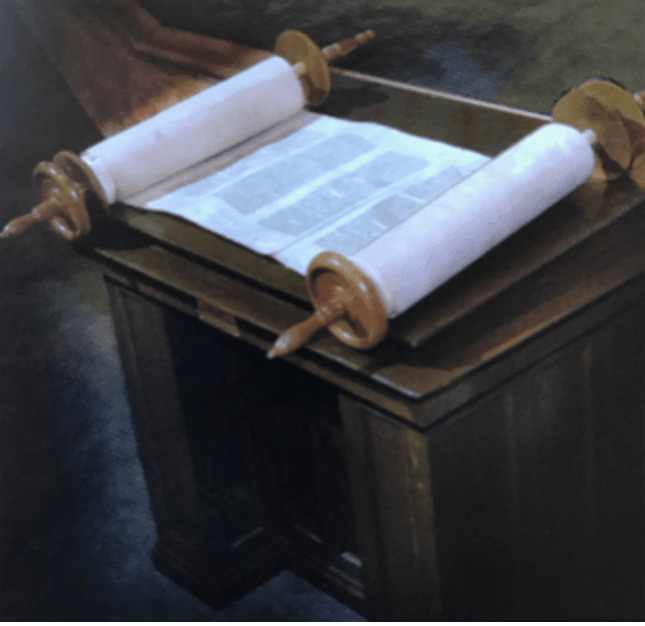 This original Bema was used in the Synagogue by the Rabbi to read from the torah Scroll. It was first used in 1924. It is still being used today at our Shabbat Service.
The Original Pulpit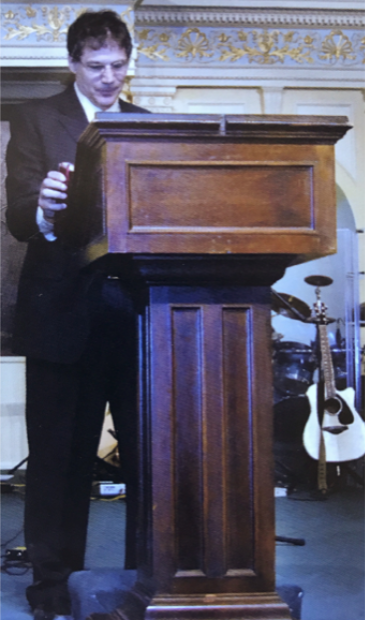 The original pulpit, formerly used in the Synagogue since 1924, was donated to CITC-BA by the BMH Congregation.
Original Stone Sign From Synagogue in The Bronx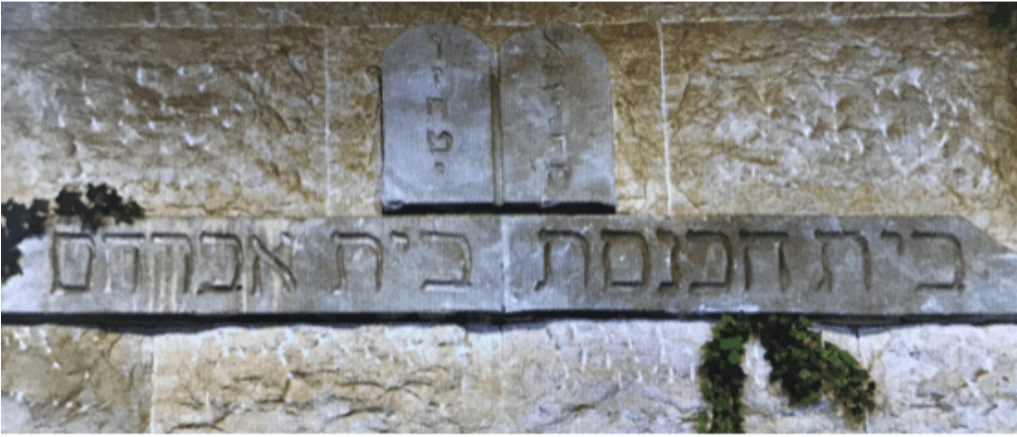 A carved stone Hebrew inscription hangs in the lobby which graved Pastor Michael's grandfathers synagogue located in the Bronx, N.Y. When the sign was being removed, it was broken into little pieces by those who chose to destroy it instead of preserve it. A woman stone worker, Karen Fixx, from Brooklyn, NY, heard about what happened and retired the sign, free of charge. The inscription reads, "Congregation Beth Abraham" for which our Shabbat Service is named.
We are a church made up of many cultures that help put lives back together. "And through your offspring, all nations on earth will be blessed…" Gen. 22:18 (NIV)
Jerusalem Stone Alter

Stone from the Holy Land was obtained from the Jerusalem Stone Company which moved to Denver the same time that the restoration of the Synagogue began. It is used on the alter, mikvah (baptismal pool), floors, lobby walls, and bathrooms.
Sanctuary Seats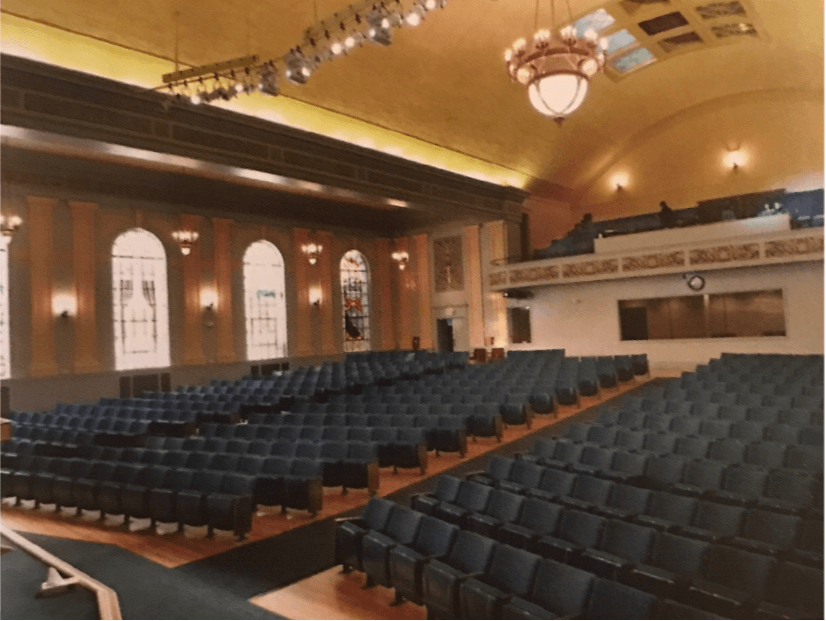 Our Sanctuary seats were donated from the renovated Buell Theater. Some of the original seats of the Synagogue are still instilled in the balcony.
Chandelier & Sconces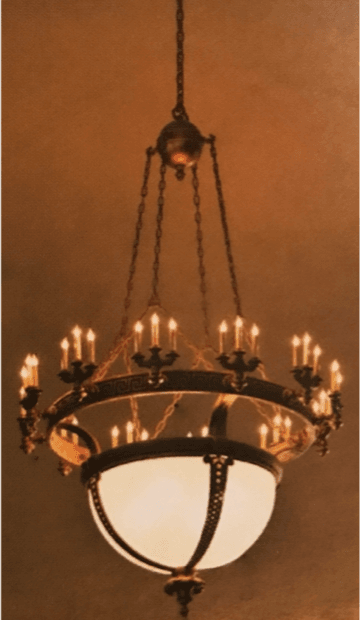 The grand chandelier was miraculously undamaged during the many years the building was vacant. With a single inquiry to a company whether they cleaned chandeliers, they told us they had the scones that were missing from the Synagogue. We now have the complete original set from the Synagogue.